The Point Back Issues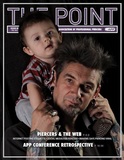 Complete your collection!
Printed copies of The Point: The Journal of the Association of Professional Piercers
Four (4) issues for $20, U.S. shipping included.
* For international orders contact info@safepiercing.org for shipping costs.
Many back issues are available in printed form from issue 17 to 60.